JOINT-STOCK COMPANY
"LAKTOPOLIS"
DIRECTOR:
"At the moment, as the plant is operating around the clock, the daily processing of raw milk or whey amounts up to 1500 tons, producing up to 250 tons of products."
– ZENONAS SKIBINIAUSKAS –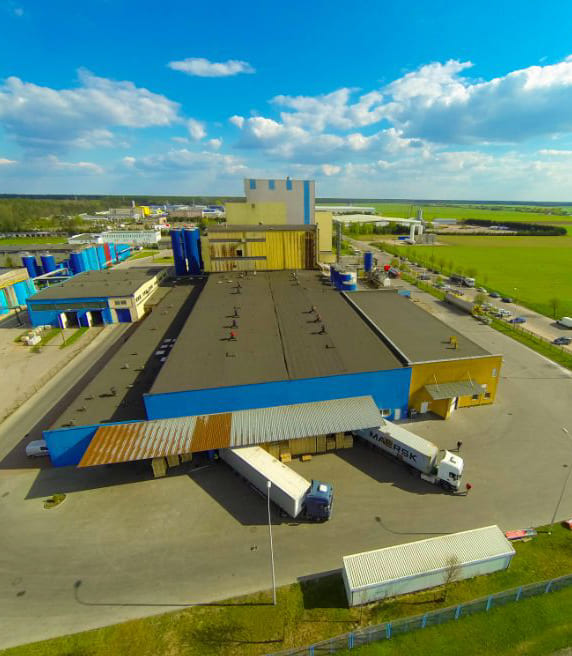 About
Joint-stock company LAKTOPOLIS is a subsidiary of one of the biggest milk producers in Poland, LAKTOPOL group. LAKTOPOL is a producer of milk and whey powders, butter and fat spreads.
After the standardized system EC/92/46EEC was implemented in 1998, LAKTOPOL earned the place among the leading milk producers in Poland, able to supply the products to the EU countries.
In 2006, LAKTOPOL initiated the renewal of its plant in Poland. The newly installed technologies allowed the increase of production of milk and whey powders 2.5 times. All reconstruction and modernization works were completed in August 2008. After the reconstruction, the plant acquired food production technologies, allowing the production of instant milk powder.
The technological advance of the company in last five years includes the successful implementation of production technologies of dry mixtures, ice cream, confectionery, bakery products, as well as premixes for combined animal fodders.
The products of LAKTOPOL are sold in all countries of EU, exported to Algeria, Morocco, Egypt, Venezuela, Mexico, Japan, Pakistan, Peru and the USA. Due to the reliable quality, the products of LAKTOPOL are in demand for many years by the worldwide known companies, such as Danone, Nestlé, Hochland, Bell, Leader Price, Centrale Laitière, JLS Foods, Ecoval, Lactoland, Sumitomo, Arab Dairy, Abou L Hol.
1500
recyclable raw materials per day